The mission/vision of our church and focus of all we do can be summed up in this simple diagram: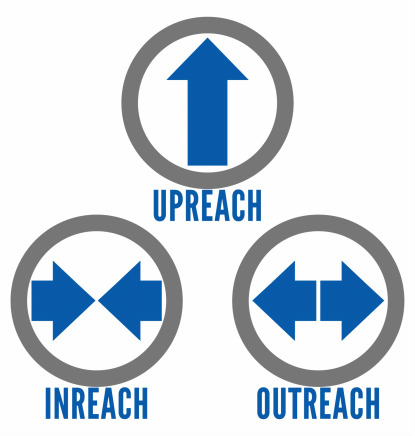 Upreach is everything that relates to our corporate walk with God, and the ways in which we connect with Him. The bible says God seeks people to worship Him in spirit and truth. (John 4:23) All our services are geared towards helping to make that living connection, whether it be through worship, prayer, and special services geared to seeking His face and presence.
Outreach is our attempt to fulfill the command of Christ to go into all the world and make disciples. Personal evangelism, supporting missionaries, and going on missions trips, and special services and events geared towards reaching the unchurched are some of the activities that come under this wide ranging umbrella.
Inreach is everything that relates to helping those that are already part of our church grow as disciples. Jesus didn't tell us to make believers out of people, but disciples. We have a wide range of vehicles we use to help people grow in the Lord. Age related bible studies, children's church, men's, women's and youth services. Also included are all the opportunities to serve one another. Inreach has as it's central goal moving people from listening to doing. Jesus said: John 12:26 If any man serve me, let him follow me; and where I am, there shall also my servant be: if any man serve me, him will [my] Father honour.